Contact Julie Ann Staggers Orthodontics
3052 Valley Avenue, Suite 100
Winchester, VA 22601
540-722-6700
Click to Request An Appointment
What to Expect on Your First Visit
We make getting affordable braces more comfortable and convenient for you
Same-day appointments for emergencies

Convenient office hours
Convenient location
Ample free parking
All dental insurance filed with your orthodontic insurance provider
MasterCard, Visa and Discover accepted
Care Credit patient financing available
Hours:
Monday: 8:30 am – 5:00 pm
Tuesday: 8:30 am – 5:00 pm
Wednesday: 8:30 am – 5:00 pm
Thursday: 8:30 am – 5:00 pm
Friday: 8:30am – 10:30 am
Are you a busy adult? Our office offers after hours consultations for adults. CLICK HERE to request an after hours consultation appointment.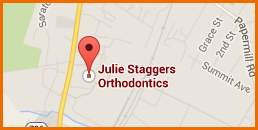 Personalized orthodontic care delivered by a board-certified orthodontist. Be sure to view our braces before and after gallery, and then call Dr. Staggers at 540-722-6700. We are convenient to the Northern Shenandaoh Valley: Strasburg (Shenandoah County), Stephens City and Winchester (Frederick County), Berryville (Clarke County) and Front Royal (Warren County).